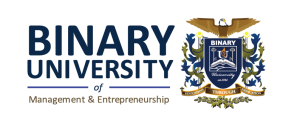 BA (Hons) in Business Management
About Binary University
Established in 1984, Binary University is rated as a 5 STAR (Excellent status) University by the Ministry of Higher Education. The university is a specialist university for Management, IT and Entrepreneurship.…

The university produces a unique breed of graduates called Industry Specialist Professional (ISP) graduates who are equipped with industry – specific skills and armed with extensive entrepreneurial skills. Due to these unique differentiating factors, the graduate employability rate of the university graduates has been among the highest in the country. (Source: Tracer Study, MOHE)
Binary University offers courses at PhD, Doctorate, Masters as well as Bachelor degree levels. The University is patronized by international students from over 60 countries.
Binary degrees are also being offered in Europe, Africa, Middle East, the Indian Sub-Continent and Central Asia through its Global Teaching Centres or Binary GTCs. The university is supported by 5 dedicated research centres in social entrepreneurship, business entrepreneurship, women leadership, ICT and advanced management. The university also produces a peer reviewed journal called the International Journal of Management and Entrepreneurship (IJME) which is subscribed internationally.
BA (Hons) in Business Management
The business world of today offers degree graduates with a wide range of job opportunities in Marketing,HR,Office administrationl,Public relations and many more.You can also choose to work locally, regionally or globally as business graduates are required in every industry that exists.
What you must understand is that employers are constantly on the lookout for talents and not just graduates.These talents must have the relevant knowledge and skills to make a difference to their organizations. If you are such a talent, the sky is the limit for you to grow and succeed in the exciting world of business.
To transform you to be a really sought after talent,the Binary BABM (Hons) degree equips one with an in-depth knowledge of current best practices,post covid relevant skills and transform you to become an entrepreneurial manager.So,if you are looking for a business degree that can launch your career to great heights,this is the one.
Rated as a 5 Star (Excellent) University by the Ministry of Higher Education (MOHE), MALAYSIA Binary University is one of the most established and respected university for management, IT and entrepreneurship education in Asia. The University offers superior programmes that are internationally recognized at an affordable cost. The University also places great emphasis on research and to this end has dedicated research centers in social entrepreneurship, women leadership, business entrepreneurship and advanced management.
Ambitious people from all over the globe who thirst for the latest thinking in business, IT or entrepreneurship has been patronizing the University for nearly 35 years because it is the ONLY University that transforms its graduates to become Industry Specialist Professional graduates and provides extensive entrepreneurial skills through its comprehensive entrepreneurial ecosystem. The University's Graduate Employability rate of 96% (source: MOHE Tracer Study) which is among the highest in the nation speaks volume of the ISP advantage and entrepreneurial skills that it imbibes in all its graduates.