Double Degree Pathway + ISP Certification
"Enhance Your Graduate Employability & Global Mobility"
The main objectives of the Double Degree are
To enhance your graduate employability by transforming you to become an Industry Specialist Professional (ISP) graduate, thus making you an invaluable asset to prospective employers.
To open new opportunities for you to work anywhere globally as Binary degrees are internationally recognized and much sought after my multinational companies (MNCs).
One of the biggest problems employers face today with fresh graduates is that their degrees are too academic, resulting in a mismatch between employer expectations and graduates abilities. Another problem faced by employees even with relatively intelligent students is that they lack the entrepreneurial mindset which is vital for problem solving in a creative and innovative way.
To address the above problems, all Double Degrees at Binary equip students with Industry Specialisations and entrepreneurial skills. To create an entrepreneurial mindset, all assignments have been developed to unearth the entrepreneurial spirit that is there within all of us.
There are 3 Double Degree options available namely
The Double Degree you are eligible to take will depend on the degree you are pursuing at your current university.
If you are enrolled in a :
Business- related degree, then BABM is the most suitable.
IT/Computer Application degree, then BSc (Hons) in Computer Science is best for you.
Engineering/Science degree, then BSc (Hons) in Management of Technology is the most apt degree for you.
However the University (Thru BOE Centre) will advise you what is best for you upon receiving your current degree program subjects/transcripts.
All Double Degrees require you to complete 8 modules and a Capstone Project. Details of the modules and subjects can be found as stated below
BA (Hons) in Business Management
BSc (Hons) in Computer Science
BSc (Hons) in Management of Technology
You can start on the Double Degree when you are in Year 2 Semester 2 of your current degree.
You need to send your registration application to commence the Double Degree when you are in Year 2 Semester 1 or earlier.
HOW CAN I STUDY 2(TWO) DEGREES ?
You will study the 8 modules on a modular basis ie you will only study 1 module at any point of time.
You will complete 1 module every month. Hence it will take you 8 months to complete the 8 modules. However if you wish to complete at a slower pace eg 1 module every 2months,it is also allowed but you need to apply and obtain permission as there will be additional Deferment costs eg.USD 30 per month
You will complete the Capstone Project (ISP included).
You need to complete only a total of 8 modules to obtain the Binary Degree.
The 8 modules you need to complete will depend on the courses that from your current university degree.
You will be awarded the Binary Degree after you have successfully completed the degree at your current university.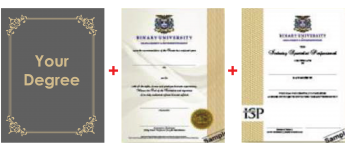 RM 7850 per semester

approx. USD 1800 per semester
Note: Payable on semester basis, payment has to done one week before the class starts.
START DATE & REGISTRATION
Start Date : 15th of each month ( Eg: 15th May, 15th June, 15th July ) etc provided your semester fees was paid at least 10 working days earlier.
To register, click the button below :