ReTRA – Africa is a Global CSR program to uplift marginalised Youths of Africa by providing access to international quality education at minimal cost. ReTRA – Africa  has its antecedents in the Langkawi International Dialogue (L.I.D) which was a Congregation of African Leaders in Malaysia to establish SMART PARTNERSHIPS to promote investment , trade and education since 1997. A significant outcome of the LID education component led by Binary University was the establishment of the Binary- First Lady Scholarships and Binary Global Teaching Centers (GTCs) in several African Nations. 
ReTRA represents another phase of Binary University's continuing engagement with Africa. The aim of ReTRA is to provide access to quality international higher education to marginalised youth in Africa where students get to enjoy 100% scholarship on tuition fees.
Retra Scholarship Fund : 100% Scholarship
The aim of ReTRA – Africa is to empower 100,000 African Youth by 2030 transforming them to become Industry Specialist Professional talents and Youth Entrepreneurs. To achive this aim, the ReTRA Scholarship Fund was established where all qualified African Youth will be provided 100% Scholarship and all tuition fees for the 4-Year Degree is totally waived. Students only pay a small exam fees per subject.
Unique Ecosystems-Based Education Model
Quality education alone is not suffice to secure good paying jobs in today's highly competitive job market.This is why at Binary, we have a unique system of creating highly employable graduates and Entrepreneurs through our Ecosystem-Based Education Model.
Using this model,you will be transformed to become an Industry Specialist Professional under our ISP Ecosystem, be equipped with an entrepreneurial mindset so that you can be creative and innovative using our BEE (Binary Entrepreneurship Excellence) Ecosystem and be connected with thousands of Employers who are part of our Binary Talent International or BTI Ecosystem who are all seeking Industry Specialist Talents.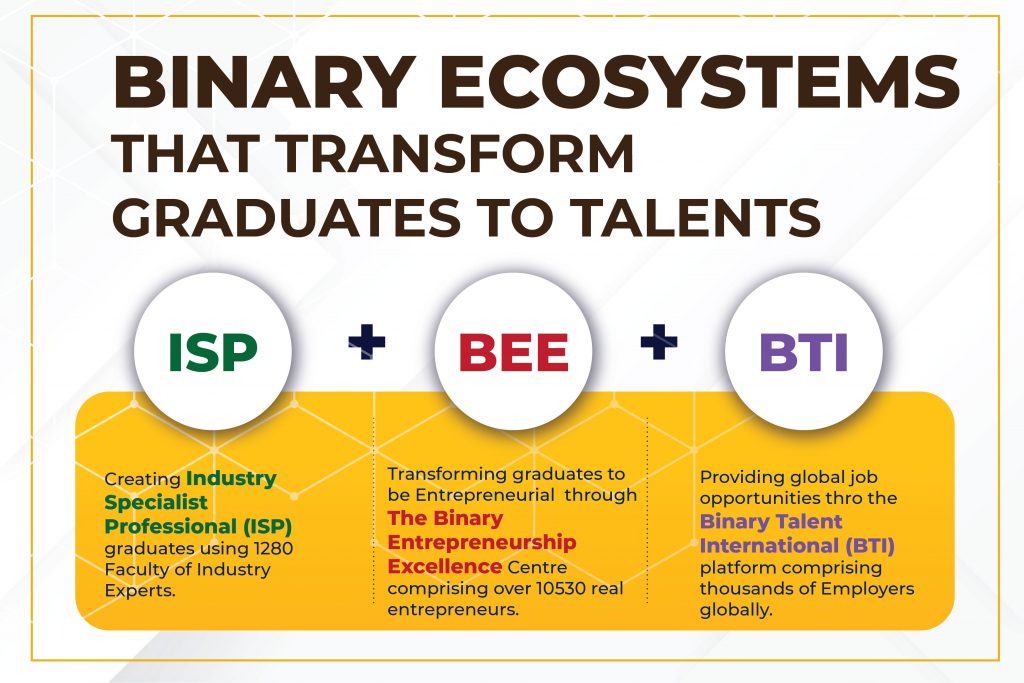 The Power of ISP : Outstanding Graduate Employability
With the establishment of thousands of new educational institutions around the world, employers are faced with an oversupply of graduates. Many of these graduates are merely equipped with academic knowledge and therefore suffer from being a real asset to employers whereas employers globally are seeking graduates with industry-specific and job-specific skills.
This is why in 1989, Binary introduced the concept of producing Industry Specialist Professional (ISP) graduates to help employers obtain Job-ready graduates. The first group of ISP graduates were groomed for the IT industry in collaboration with IBM, Oracle, Sun Microsystems, Lotus, SAP and Microsoft, the world's TOP IT giants.

From the IT industry, the ISP Ecosystem was expanded to 22 other industries as shown below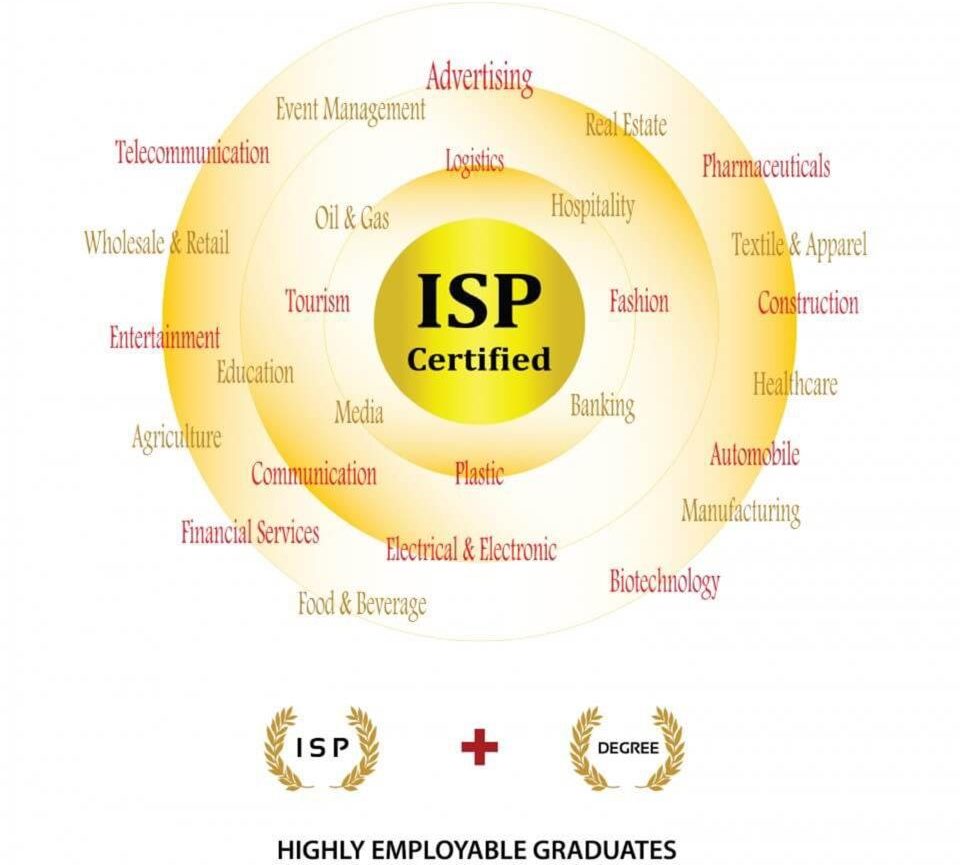 The ISP Version 5.0 or ISP Premium which will be launched in March 2022, and this will elevate the ISP Ecosystem even further. ISP Premium will provide employers globally the opportunity to hire tailor-made graduates using a unique smart partnership model. The ISP Premium will transform graduates to become Talents who are equipped with sound academic knowledge, job-specific skills IR 4.0 skills, global mobility skills and ISP.
Alumni of Binary University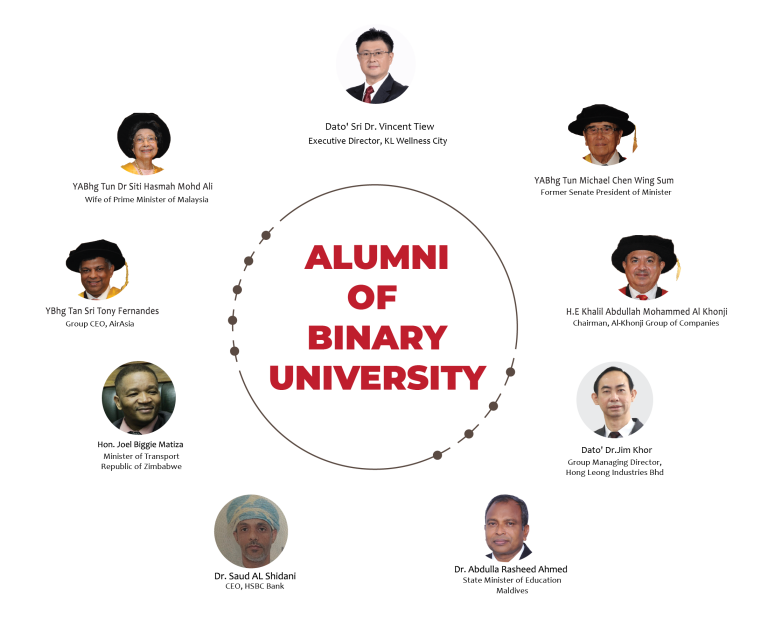 Students can choose to pursue any one of the 3 programs as follows
BA (Hons) Business Management
BSc (Hons) Computer Science
BSc (Hons) Management of Technology
Binary University is recognised by the following international organisations