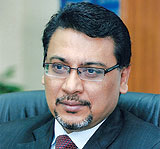 YBhg Tan Sri Dato Professor Joseph Adaikalam
Producing Employable Graduates and Entrepreneurs.
Since its establishment in 1984, Binary University has been continuously progressing in terms of its academic excellence, research excellence and its global reputation. Binary University is the World's First University to produce Industry Specialist Professional (ISP) graduates.
After operating as a college for 20 years, we were upgraded to a university college by the Government of Malaysia in 2004 based on our excellent academic track record. Upon attaining the university college status, we focused on enhancing our research excellence. We established dedicated research centers, published our very own home-grown peer-reviewed journal (IJME) which is subscribed internationally, secured nationally competitive research grants as well as successfully motivated many of our academics to publish in ISI indexed and high-tier journals. This research-focused strategy paid off dividends when the Government of Malaysia recognized our research achievements and granted us the FULL University status in August 2012.
2012 was a very significant year in the history of Binary University. In addition to attaining full university status, we were rated as a 5-star University by the Malaysian Qualification Agency (MQA). This is the highest rating accorded to any university in Malaysia. We also achieved a 96% graduate employability rate as evidenced by the Tracer Study conducted by the Ministry of Higher Education, Malaysia. In December 2012, we were accorded the highest award by the SME Association of Malaysia, The SME Sahabat Negara Award 2012 to recognize our academic, corporate and entrepreneurial excellence as well as our extensive contribution towards social causes.
Binary University has established one of the most comprehensive entrepreneurial ecosystems in this region to help translate ordinary students into entrepreneurial graduates. The focus of the university now is to prepare its graduates to climb the corporate ladder faster by transforming them to be entrepreneurial managers, entrepreneurial IT professionals and entrepreneurial accountants.
World leaders globally are facing the problem of effectively addressing the increasing unemployment rate among youth . Through our ISP Centre of Excellence, we create highly employable graduates with industry-specific skills, transforming ordinary graduates into Industry Specialist Professionals or ISPs.Leaders and far-sighted individuals can leverage from the success of Malaysian industries by  investing in our world-leading ISP Certified Graduate Program.
World leaders have come to recognize the great importance of taking proactive measures to create more Youth entrepreneurs who will not only be the next engine of economic growth but also creators of more jobs. As MALAYSIA's First Entrepreneurship University, we create young entrepreneurs in specific industries that is key to ensuring economic success of their Nation. Driven by the EYE (Empowering Youth Entrepreneurs) Centre and supported by a Comprehensive Entrepreneurial Ecosystem, we help Nations create their very own homegrown technopreneurs, edupreneurs, agropreneurs, biopreneurs and a host of industry-specific entrepreneurs.