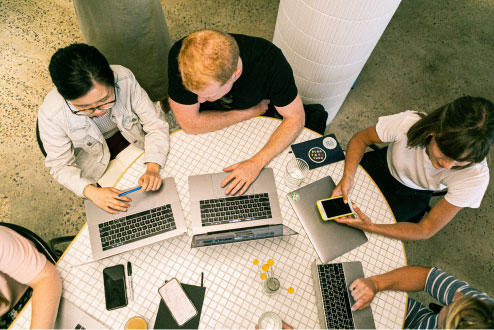 Why are Binary Graduates Employers' No.1 Choice ?
Visualise Your Future. That you want to work for a Multinational Corporation (MNC) and in an industry that you are passionate to be involved upon graduation. Can a normal university help you achieve this dream ?
Now, Imagine an Employers Dilemma. "I have interviewed so many applicants for the marketing job at our Bank. All I have seen is Marketing graduates who know nothing about the Banking industry or Banking graduates who know little about marketing"
Now you, a Binary graduate, walk-in armed with a BA (Hons) in Marketing degree with Industry Specialisation (ISP) in Banking industry What do you think this Employer is going say?
"That's right. Finally, I have found our candidate, a graduate who has mastered the application of marketing in the banking industry".
This is why Binary enjoys an Outstanding Graduate Employability rate of 96%-100%. Our ISP Centre of Excellence transfroms graduates into Talents, and Talents is what employers are really looking for. If you want to be Employers First Choice, join BBS or BGS. 
Unique Ecosystems-Based Education Model
Quality education alone is not suffice to secure good paying jobs in today's highly competitive job market.This is why at Binary, we have a unique system of creating highly employable graduates and Entrepreneurs through our Ecosystem-Based Education Model.
Using this model,you will be transformed to become an Industry Specialist Professional under our ISP Ecosystem, be equipped with an entrepreneurial mindset so that you can be creative and innovative using our BEE (Binary Entrepreneurship Excellence) Ecosystem and be connected with thousands of Employers who are part of our Binary Talent International or BTI Ecosystem who are all seeking Industry Specialist Talents.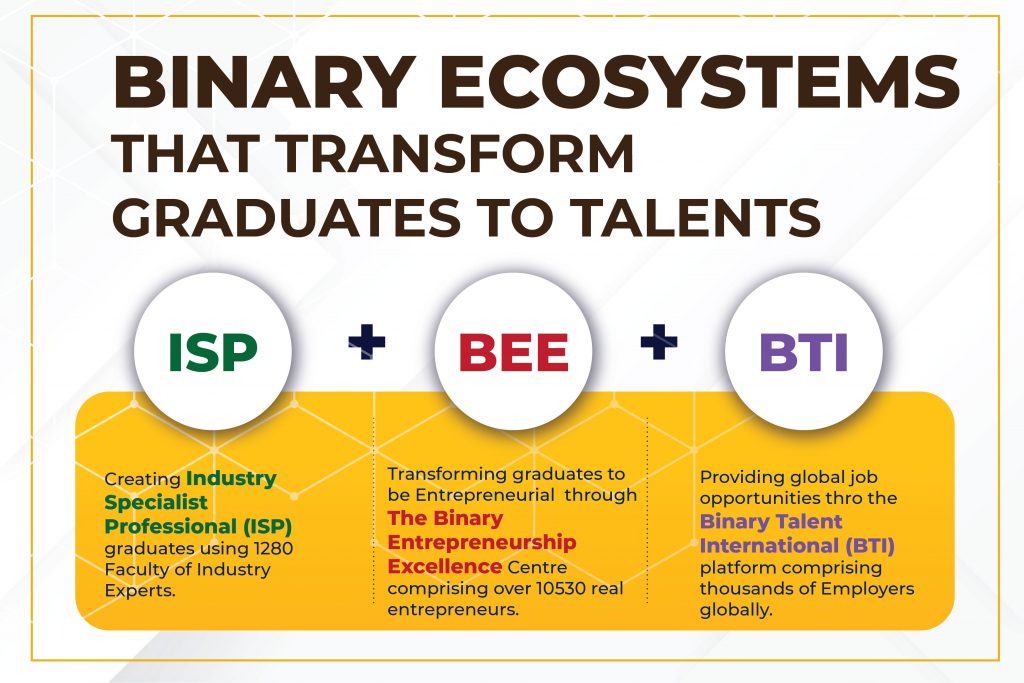 The Power of ISP : Outstanding Graduate Employability
With the establishment of thousands of new educational institutions around the world, employers are faced with an oversupply of graduates. Many of these graduates are merely equipped with academic knowledge and therefore suffer from being a real asset to employers whereas employers globally are seeking graduates with industry-specific and job-specific skills.
This is why in 1989, Binary introduced the concept of producing Industry Specialist Professional (ISP) graduates to help employers obtain Job-ready graduates. The first group of ISP graduates were groomed for the IT industry in collaboration with IBM, Oracle, Sun Microsystems, Lotus, SAP and Microsoft, the world's TOP IT giants.

From the IT industry, the ISP Ecosystem was expanded to 22 other industries as shown below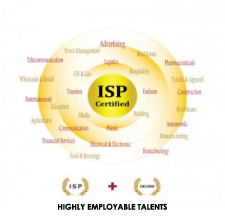 The ISP Version 5.0 or ISP Premium which will be launched in March 2022, and this will elevate the ISP Ecosystem even further. ISP Premium will provide employers globally the opportunity to hire tailor-made graduates using a unique smart partnership model. The ISP Premium will transform graduates to become Talents who are equipped with sound academic knowledge, job-specific skills IR 4.0 skills, global mobility skills and ISP.
Established in 1984, Binary Business School (BBS) has been offering twinning programs with British, American and Australian universities for more than 20 years before it was upgraded to a University. Through these global partnerships with leading universities, BBS was able to adopt best practices in international education, global benchmarks, quality assurance systems and curriculum development.
In 2004, BBS was upgraded to a University College having met the criteria of academic excellence as set by the Ministry of Higher Education, Malaysia. Thus, BUC became the First Entrepreneurship University in Malaysia. From 2004 onwards, the team at Binary University College focussed on enhancing its Research by establishing 5 Centres of Excellence that supported the Vision and Mission of the University.

By 2012, Binary University College had attained numerous accolades in Research and was upgraded to a full-fledged university called Binary University of Management & Entrepreneurship (BUME), a specialist University for Management, IT and Entrepreneurship education. The University offers PhD, DBA, Masters and Bachelor degrees and is patronised by students from over 60 countries.The University's focus is in producing talents who are Highly Employable Intrapreneurs (ISPs) and to create Youth Entrepreneurs who are Job-creators.
Binary Business School or BBS is the oldest business school (private sector) in Malaysia.
Binary Business School  (BBS) has won numerous First World Placings in Business and IT education offered in collaboration with professional bodies from the UK. BBS was also a pioneer in offering twinning degrees with British, Australian and American universities before it became a degree granting institution. BBS has over 50,000 alumni across the world, many of whom are occupying coveted positions in the public, private and NGO sectors. BBS offers the following degrees
INTRODUCTION
The Foundation Degree in Arts (FDA) at Binary University prepares 'O' Levels and Grade 10 high school – leavers for direct entry into the First Year of any one of our Undergraduate Degree. The Binary FDA is unique in that it allows students to diagnose a wide range of Pre University subject areas in the first 2 semesters and when students have a better understanding of University degree options, presents multiple pathways in Accounting, Business, Marketing, Entrepreneurship or IT in the final semester for one to specialize in.
The uniqueness of the FDA are :
It takes away the pressure from high school-leavers who often have to make the very difficult decision whether to choose a Foundation in Arts, Science, Communication or Accounting.
The FDA opens numerous degree pathway opportunities as students can opt to do a degree in Accounting, Business, Marketing, Entrepreneurship or IT/ Computer Science.
The FDA provides you opportunities for interdisciplinary study with an emphasis on problem solving and analytical skills, thus helping to unlock your fullest potential.
You will be able interact with international students which will provide you with rich intercultural experiences, thus preparing you to become a truly global graduate in the future.
PROGRAM AIM
The programme aims to equip students with a sound knowledge in Arts, Business and IT thus preparing one adequately for university level education and career development.
LEARNING OUTCOMES
Upon completion of this programme, you will be able
To utilise facts to describe and discuss concepts, principles, and processes in the broad areas of Arts, IT and business.
To identify, analyse and solve problems using innovative strategies.
To conduct academic activities such as collect, analyse, organise, and process data/information to make conclusions individually or in groups;
To communicate effectively orally and in writing;
To Utilise digital technology applications to seek and process data related to a specific field of study; and
To interpret, and use relevant information to pursue higher learning independently.
ENTRY REQUIREMENT

The FDA is a 3 semester full time programme offered over a 12 month period. Entry into the programme is 'O' Levels with minimum 5 credits.
DURATION
1 Year
MODULES OFFERED

Please Click on the button below for  "Modules Offered"

Untuk keterangan lanjut, sila klik link di bawah