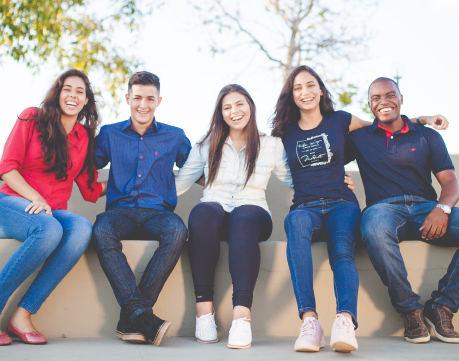 Why are Binary Graduates Employers' No.1 Choice ?
Visualise Your Future. That you want to work for a Multinational Corporation (MNC) and in an industry that you are passionate to be involved upon graduation. Can a normal university help you achieve this dream ?
Now, Imagine an Employers Dilemma. "I have interviewed so many applicants for the marketing job at our Bank. All I have seen is Marketing graduates who know nothing about the Banking industry or Banking graduates who know little about marketing"
Now you, a Binary graduate, walk-in armed with a MBA with Industry Specialisation (ISP) in Banking industry What do you think this Employer is going say?
"That's right. Finally, I have found our candidate, a graduate who has mastered the application of marketing in the banking industry".
This is why Binary enjoys an Outstanding Graduate Employability rate of 96%-100%. Our ISP Centre of Excellence transfroms graduates into Talents, and Talents is what employers are really looking for. If you want to be Employers First Choice, join BBS or BGS. 
Unique Ecosystems-Based Education Model
Quality education alone is not suffice to secure good paying jobs in today's highly competitive job market.This is why at Binary, we have a unique system of creating highly employable graduates and Entrepreneurs through our Ecosystem-Based Education Model.
Using this model,you will be transformed to become an Industry Specialist Professional under our ISP Ecosystem, be equipped with an entrepreneurial mindset so that you can be creative and innovative using our BEE (Binary Entrepreneurship Excellence) Ecosystem and be connected with thousands of Employers who are part of our Binary Talent International or BTI Ecosystem who are all seeking Industry Specialist Talents.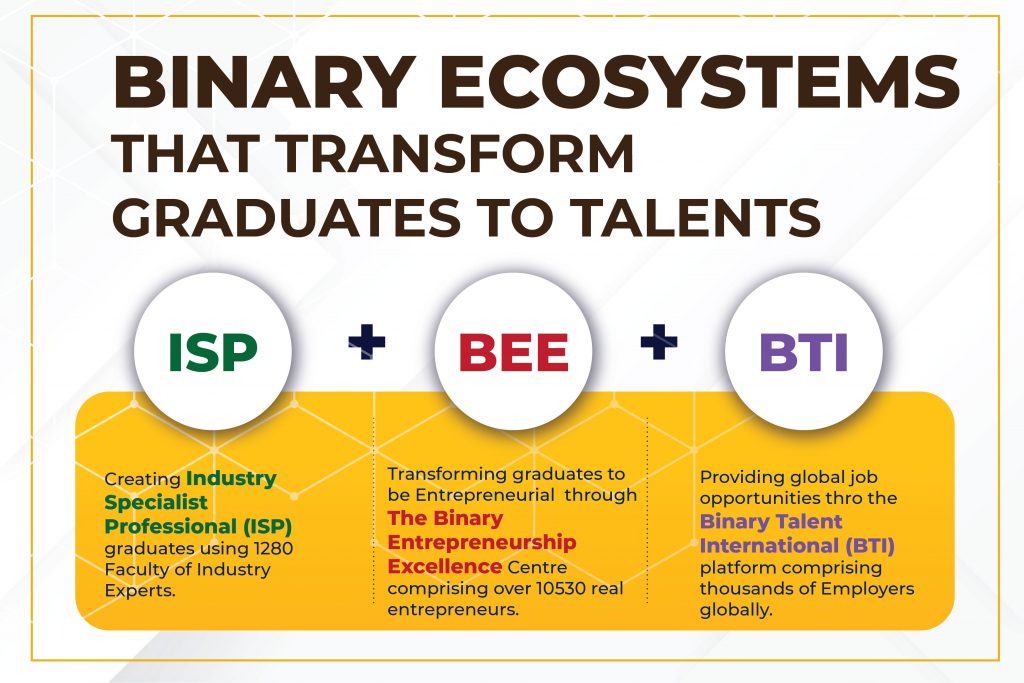 The Power of ISP : Outstanding Graduate Employability
With the establishment of thousands of new educational institutions around the world, employers are faced with an oversupply of graduates. Many of these graduates are merely equipped with academic knowledge and therefore suffer from being a real asset to employers whereas employers globally are seeking graduates with industry-specific and job-specific skills.
This is why in 1989, Binary introduced the concept of producing Industry Specialist Professional (ISP) graduates to help employers obtain Job-ready graduates. The first group of ISP graduates were groomed for the IT industry in collaboration with IBM, Oracle, Sun Microsystems, Lotus, SAP and Microsoft, the world's TOP IT giants.

From the IT industry, the ISP Ecosystem was expanded to 22 other industries as shown below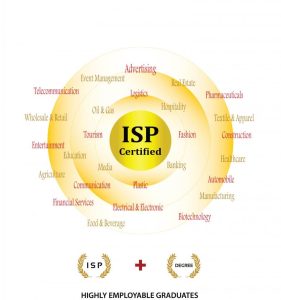 The ISP Version 5.0 or ISP Premium which will be launched in March 2022, and this will elevate the ISP Ecosystem even further. ISP Premium will provide employers globally the opportunity to hire tailor-made graduates using a unique smart partnership model. The ISP Premium will transform graduates to become Talents who are equipped with sound academic knowledge, job-specific skills IR 4.0 skills, global mobility skills and ISP.
Established in 1984, Binary Business School (BBS) has been offering twinning programs with British, American and Australian universities for more than 20 years before it was upgraded to a University. Through these global partnerships with leading universities, BBS was able to adopt the best practices in international education, international benchmarks, quality assurance systems and curriculum development.
In 2004, BBS was upgraded to a University College having met the criteria of academic excellence as set by the Ministry of Higher Education, Malaysia. Thus, BUC became the First Entrepreneurship University in Malaysia. From 2004 onwards, the team at Binary University College focussed on enhancing its Research profile setting-up 5 Centres of Excellence that supported the Vision and Mission of the University.

By 2012, Binary University College had attained numerous accolades in Research and was upgraded to a full-fledged university called Binary University of Management & Entrepreneurship (BUME), a specialist University for Management, IT and Entrepreneurship education. The University offers PhD, DBA, Masters and Bachelor degrees and is patronised by students from over 60 countries.The University's focus is in producing Highly Employable Intrapreneurs (ISPs) and Entrepreneurs.
The Binary Graduate School or BGS is the oldest Graduate School (private sector) in Malaysia. It has over 18,000 alumni across the world, many of whom are occupying coveted positions in the public, private and NGO sectors. BGS offers the following degrees
 

All Masters

PhD / DBA

Year 1

RM 16,000

RM 17,000

Year 2

RM 16,000

RM 15,000

Year 3

N/A

RM 12,000

Registration Fees

RM 600 per year

Library Fees

RM 200 per year
Hostel Fees
| | |
| --- | --- |
| Medium Room (Sharing) | RM350 per month |
| Small Room (Single) | RM500 per month |
 

All Masters

PhD / DBA

Year 1

RM 16,000

RM 17,000

Year 2

RM 16,000

RM 15,000

Year 3

N/A

RM 12,000

Other Fees

Registration Fees

RM 600 per year

Library Fees

RM 200 per year

International Admin Fees

RM 1960

Visa Processing Fees

 RM 2980 (For Master Program)

 RM3980 (For PhD/DBA Program)

Personal Bond (refundable)

 RM 750 – 1550
Hostel Fees
| | |
| --- | --- |
| Medium Room (Sharing) | RM350 per month |
| Small Room (Single) | RM500 per month |
| Master Bedroom (Single) | RM1200 per month |
Phd (Face to Face) : 15th May 2023, 12th July 2023 & 25th Sept 2023
DBA (Face to Face) : 15th May 2023, 16th Oct 2023
MBA (Full Time) (Face to Face): 15th May 2023 & 25th Sept 2023, 16th Oct 2023
MBA (Hybrid) (Part Time) : 19th May 2023, 29th July 2023, 27th Sept 2023 & 7th Oct 2023
MSc in Education Management, MSc in Social Entrepreneurship & Master of Philosophy (Full Time) (Face to Face) : 15th May 2023, 17th July 2023 & 25th Sept 2023

MSc in Education Management, MSc in Social Entrepreneurship & Master of Philosophy (Hybrid) : 20th May 2023 & 18th Nov 2023