Part Time Studies @ Binary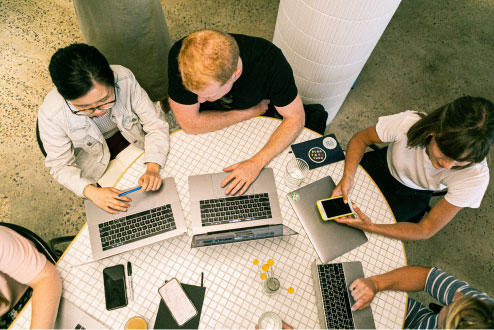 Since 1984, thousands of working professionals have benefited from the modular, flexible and affordable Part-Time Study programs offered through BBS (https://binary.edu.my/bbs/) and BGS (https://binary.edu.my/bgs/) at Binary University.
Working professionals can pursue our programs through Real Time Class (RTC) Online Mode through weekend classes as follows:
Bachelors (Every Saturday 10am – 5pm): Only for Malaysians

Masters ( 2 Saturdays per month 10am – 5pm): Only for Malaysians

PhD (2 Saturdays per month 2pm – 5.30pm): Open to International and Local Students


DBA (2 Saturdays per month 12pm – 6pm / Thursday & Friday : 2pm – 5.30pm): Open to International and Local Students



For further information of the programs, please click the relevant program button below.
INTRODUCTION
As an entrepreneur, you can bring your ideas to life, pursue your passion, become financially independent, have the creative freedom to call your own shots, impact the lives of people and above all build an organization that will last beyond your lifetime. In short, entrepreneurship is one of the most exciting careers you can indulge in as it can give you  the personal fulfillment that no jobs can provide you.
PROGRAM AIM
The programme aims to produce professional entrepreneurs who are creative and innovative with excellent entrepreneurial, management and leadership skills, who have in depth industry- specific knowledge.
LEARNING OUTCOMES
Upon completion of this programme, you will be able
Evaluate theories and concepts in Entrepreneurship studies;
Communicate creative and innovative ideas effectively;
Apply critical thinking skills for decision making in Entrepreneurship;
Display innovative entrepreneurial skills;
Demonstrate leadership, teamwork, communication and social skills in accordance with ethical and legal practices in Entrepreneurship; and
Apply the skills and principles of lifelong learning in their academic and career development in Entrepreneurship.
DURATION
3 Years
MODULES OFFERED

Please Click the button below to read "Modules Offered"

FEES
Please Click the button below to read "Fees"
INTRODUCTION
The business world of today offers degree graduates with a range of job opportunities in Marketing, HR, Office administration, Public relations and many more. You can also choose to work locally, regionally or globally as business graduates are required in every industry that exists.
What you must understand is that employers are constantly on the lookout for talents and not just graduates.These talents must have the relevant knowledge and skills to make a difference to their organizations. If you are such a talent, the sky is the limit for you to grow and succeed in the exciting world of business.
To transform you to be a really sought after talent, the Binary BABM (Hons) degree equips one with an in-depth knowledge of current best practices, post covid relevant skills and transforms you into an entrepreneurial manager. So, if you are looking for a business degree that can launch your career to great heights, this is the one.
PROGRAM AIM
The aim of the BABM is to produce entrepreneurial managers who are Industry Specialist Professionals (ISPs). The degree provides a thorough grounding in all aspects of business and management, thus enabling graduates to work in wide range of business functions including Marketing, HRM, Finance, Office Administration, Public Relations, Advertising etc.
LEARNING OUTCOMES
Upon completion of this programme, you will be able
To plan, organize and execute strategies to achieve organizational goals.
To write and present excellent business proposals to expand a business.
To understand and interpret financial statements.
To recommend innovative marketing strategies for use in digital and conventional platforms.
To exhibit good problem solving skills and offer cost effective solutions.
To "walk and talk" the language of a specific industry.
To evaluate and recommend industry-specific business strategies.
DURATION
3 Years
MODULES OFFERED

Please Click on the button below for  "Modules Offered"

INTRODUCTION
If you have completed a diploma in engineering, science or any other technical field but wish to occupy higher paying management positions, the BSc (Hons) Management of Technology is the right programme for you. If you ask around, many technical graduates will agree that they are actually suffering in silence in their workplace. After arming themselves with an engineering, biotechnology, IT or a science based qualification, they come to realize their jobs are really not a glamorous one as top management who often have lesser technical expertise have the last say in most business decisions. And there goes their technical qualification and job frustration sets in.
Technical graduates now have a golden opportunity to change all that through Binary University. Upon completion of a diploma in engineering, IT, biotechnology or any of the natural sciences, you can now upgrade to a degree that equips you with the management and entrepreneurial skills necessary for you to fast track your career to become a top-class manager or CEO of the future.
PROGRAM AIM
The BSc (Hons) in Management of Technology aims to produce Technical Managers who are able to combine their technical knowledge know-how with management expertise, leadership qualities and entrepreneurial skills.
LEARNING OUTCOMES
Upon completion of this programme, you will be able
To understand how information technology affects society, business and the individual, both from a technical, ethical and legal point of view.
To demonstrate knowledge of algorithm design and use of efficient data structres.
To have an in-depth understanding of the appropriate theory, practices, languages and latest tools that may be deployed for the specification, design, implementation and evaluation of computer-based systems.
To be able to work as an effective Project Manager and member of an IT development team.
To develop a range of cognitive abilities and skills relevant to the task of designing, developing and evaluating programmed solutions to business problems.
To demonstrate knowledge and practical application in a specialist area such as Cybersecurity, Data Analytics, Cloud Computing Artificial Intelligence, etc.
DURATION
3 Years
MODULE OFFERED

Please Click on the button below for  "Modules Offered"

To apply, please click the button below.
For further enquiries, please send text using the Whatsapp below.